Free Shipping Over $50
Most orders today will ship Tomorrow!
Yes, 95% of all orders are produced and leave our facility the same or next business day.
Same Day Production Available
Industry Leading Speed and Consistency
Our production facility combines speed and efficiency to deliver the fastest turnaround times in the industry.
Easy to Install - Guaranteed!
Achieve Professional Results
You can apply our vinyl lettering yourself—Guaranteed! Save money and get the same professional results.
Custom Vinyl Lettering Applications
Create Your Lettering Online
Our Customers Love Us!
Professional look
"I absolutely love Lettering.com. It is so easy and convenient. The truck looks like it was professionally done. It took less than ten minutes to put the lettering on the truck."
Wendy Montgomery
Gustine, CA
So easy to order
"The website was very easy to use and the letters went on very easily. I will never pay someone else to do my lettering again. Very satisfied with the product, service, and ease of installation."
Bill O'Connor
New Hampshire
Quick turnaround time
"Low prices, extremely quick turnaround time and shipping, and awesome customer service. Very happy with how the vinyls turned out. I've already referred two friends! Thanks so much!"
Peter Closi
Key West, FL
Your lettering will install perfectly, or I'll send you a free replacement.
Brad Handy
President, Lettering.com Inc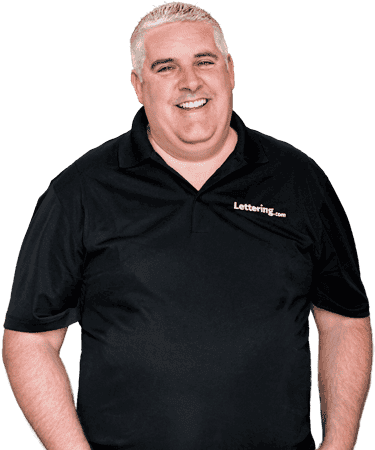 Vinyl lettering is a cost effective form of local advertising
"Great product. I have already had 2 people call about my services just from the lettering. Thank you."
Jonathan A. Eubanks
Columbus, Ohio
"This is a superb solution for advertising on the go. Thousands of people see my photography website displayed on my van..."
Andrei C. Zamfir
Phoenix, AZ
"Your letters were great! Very cost effective"
Seaside Scrapbooking
Naples, FL
Achieve professional results and save money at the same time
"The letters shipped quickly and were easy to apply. Thank you, I saved a LOT of money doing it myself!"
Judy Betts
Morehead City, NC
"Top quality vinyl, I not only didn't have any problem installing the letters (even as a beginner), but it looks like a professional did it. I saved myself about $1400 dollars. Couldn't be happier. A tape measure and a little masking tape... who would have thought."
Jason Johnson
Hampton, Virginia
"I did this for a huge commercial property at an indoor trampoline park, to save time on painting the words in along with my other hand painted murals. This way saved a lot of time, and I love the outcome!"
Leah Hereford
Houston,Texas
Create your own vinyl lettering
Use our online design tool to create your custom vinyl lettering for any occasion.
Get Started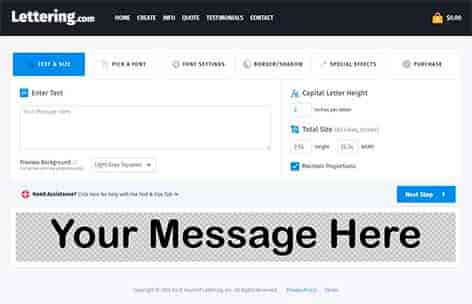 Search from millions of premium vinyl ready images, or upload your own logo and graphics
What is Vinyl Lettering?
Vinyl Lettering is a self-adhesive product made from durable vinyl material for sign making. Use Do-It-Yourself (DIY) vinyl lettering to advertise your store information, or create a customized message for your sign or vehicle. They're available in many font styles and colors and can easily apply to any smooth surface.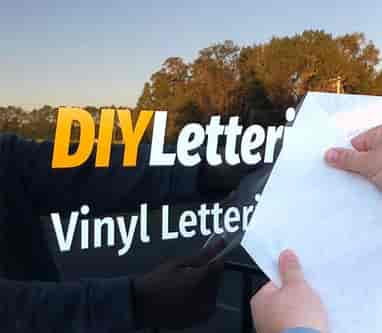 Three ways to order vinyl lettering.
Use Our Online Design Tool
Create your own lettering online. Choose any size, color, effect, and compare hundreds of font styles. This is the fastest way to get your lettering.
Design Online
Let Us Design it or Upload Your Files
Let us know what you are looking for and let us help you with your lettering design. You can upload a logo file or search from millions of graphic images.
Request a Quote
Submit Your PDF Artwork, Instant Price
Do you have your own graphic design? Submit your vector PDF files here and get an instant online price quote.
Submit Your Artwork