Self-Adhesive Vinyl Lettering Installation Instructions
1. Position and secure with tape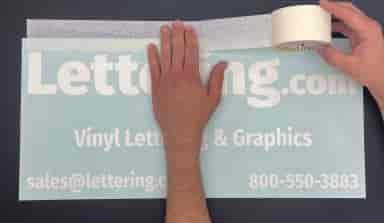 -Your surface needs to be clean before you install the lettering.
-Double check that it is level and in the correct location.
2. Remove the liner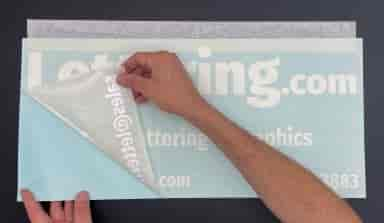 -The lettering is very sticky, be careful!
3. Apply the lettering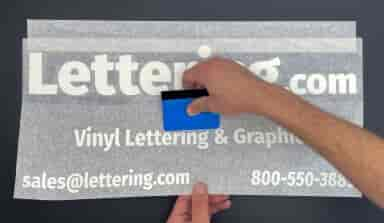 -Keep the lettering taut with the tape that's holding it in place.
-Start from the taped edge, and work towards the other edge.
4. Remove the transfer tape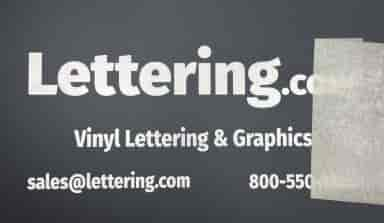 -Make sure the lettering is firmly pressed onto your surface before you remove the tape.
Other Vinyl Decal Installation Options and Techniques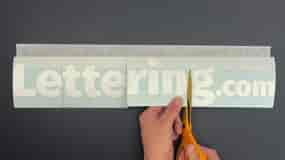 -Needs to have spaces between letters.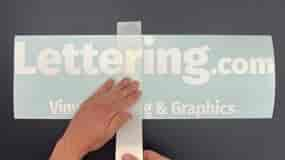 -Great for long lettering.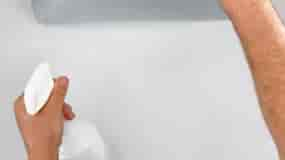 -Not recommended for small lettering.
Instant Answers
Ask a question or describe what you're looking for.
What is Do It Yourself Vinyl Lettering and how can I use it?

Our custom vinyl lettering is self-adhesive and works great on cars, boats, storefront windows, walls, mailboxes, and almost any sign surface.

With Do-It-Yourself Vinyl Lettering:

It's fun and easy to order and apply yourself.
Vinyl comes pre-spaced on one sheet of backing paper to install in one application
You can achieve professional results and save money by installing yourself
Vinyl lettering is one of the most cost effective forms of advertising
We replace any lettering you do not install correctly at no charge
Order online and get it fast! Order by 1:00pm Eastern Time and select USPS Priority or any of the UPS/FedEx options and the order ships the same day.

How much does the lettering cost?

If you design the lettering online, the price is shown on the Purchase tab and updates with every change you make to the design. The price shown is for 1 copy of what shown in the on screen preview. If you need 2 or more copies of the lettering you can specify how many you need on the Purchase tab as well. If you have a graphic, logo, or need a custom lettering layout you can submit a quote request on the graphics page.

How soon can I get the custom vinyl lettering?

Most orders designed online are produced and shipped within one business day. Same day production is available on most orders placed before 2:30pm EST. Not every shipping option is available for all orders and shipping zip codes. Enter your zip code to show the available shipping options and estimated delivery dates.

| Shipping Method/Speed | Price |
| --- | --- |
| First Class Mail (about 5-10 business days) | $5.25 |
| Priority Mail (about 3-8 business days) | $8.95 |
| UPS/FedEx Ground | $10.95 |
| UPS/FedEx 2 Business Day | $14.95 |
| UPS/FedEx 1 Day Air - By end of day | $26.95 |
| UPS/FedEx 1 Day Air - Morning Delivery | $36.95 |

* Orders over $50 qualify for Free Shipping.

* Production time options vary based on the contents of the order. Use the Production Time menu to select a faster production time.

* Weekends and Federal Holidays do not count as shipping days.

* For international orders you can change the country and select a shipping option in the shopping cart before checking out. Once you select a country, the shipping options, prices, transit and production times will be listed. Import duties and taxes are not included in the item prices or shipping costs and will be the receivers responsibility. The following shipping options are available in most countries:

USPS First Class International - (2-3 Weeks)
FedEx Economy International - (4-5 Days)
FedEx Priority International - (1-3 Days)

What if I have any problems with the lettering?
Price
Shipping
Vinyl Lettering
Problems
Size Help
Bulk Orders
Graphics / Logos
Reversed Lettering
Re-order to Match Previous Order
Etched Glass
Install Inside Window
Online Design Tool
Use our online lettering design tool to create custom vinyl lettering with an instant on screen preview.

Featured Testimonial

"Exactly what I wanted. Easy to apply. Looks great."
Walt Kovacs, Orange, CA, USA
---
Remove Vinyl Lettering
Vinyl Lettering is removable but NOT re-usable. To remove the lettering just apply heat with a hair dryer or heat gun to "de-activate" the adhesive, then peel the lettering off the surface. You may need to use some standard household cleaners to remove any excess adhesive.
Vinyl Lettering & Decals
Free Replacement Guarantee
Our Guarantee
"We guarantee you can install our vinyl lettering yourself. We'll ship you a replacement if you have any problems, period."
Our Warranty
"Our vinyl lettering has awesome long-term outdoor durability. We warranty our lettering to look great for many years."
If you need any assistance, don't hesitate to contact me.
Brad Handy
President, Lettering.com Inc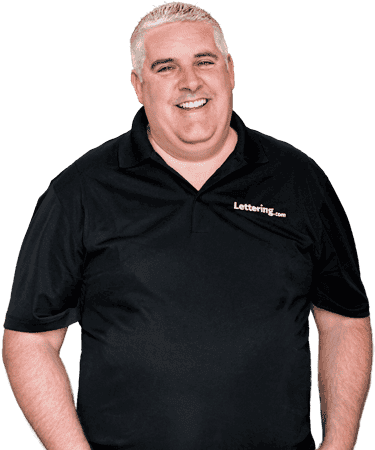 We promise to always stick to our core values of honesty, integrity, fairness & trustworthiness.
"We promise to always treat our customers the way we would want to be treated, be on time, do what we say, go the extra mile, and strive for perfection in everything that we do."