Lettering.com Dealer/Installer Program
We provide expedited shipping options and wholesale pricing discounts to support our dealer/installer customers. This program is intended for dealers who resell and install our lettering products.
Discounts apply when utilizing our online automated design options, which also include the ability to upload your own PDF designs. Standard retail rates will apply when seeking assistance from our customer service team to place an order.
Wholesale pricing discounts
Special discounts on shipping
Expedited production available
High Volume / Bulk Orders
When you need pricing for a large project, please contact us for additional discounts and a customized quote.
Who is the Dealer/Installer Program For?
The dealer program is designed for businesses that ship to their own address and offer installation services to their customers. Similar to retail customers, our dealers can anticipate the same exceptional customer service, which includes our standard installation guarantee and vinyl warranty. We do not offer a blind shipping option.
Signup / Application Process
To enroll in our dealer/installer program, you should begin by registering for an account on our website. Upon registration, you'll find the option to upload your sales tax exemption information in the accounts portal. Once your account has been created, please send us an email and tell us about your business. We will then reach out to you to proceed with the application process and upgrade your account.
If you need any assistance, don't hesitate to contact me.
Brad Handy
President, Lettering.com Inc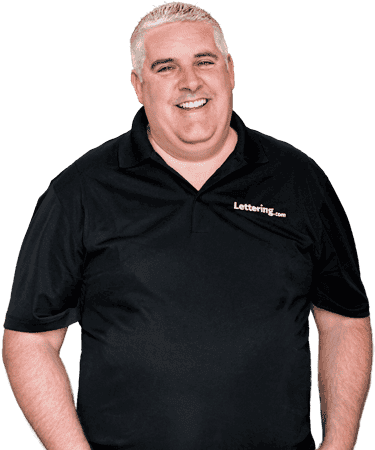 We promise to always stick to our core values of honesty, integrity, fairness & trustworthiness.
"We promise to always treat our customers the way we would want to be treated, be on time, do what we say, go the extra mile, and strive for perfection in everything that we do."